| | |
| --- | --- |
| | SA x VC x LC - VC and LC in Grand Theft Auto San Andreas |
SA x VC x LC - VC and LC in Grand Theft Auto San Andreas
here is a project have been working on the past couple of months.
shared a video about it in fastmans limit adjuster topic a while back and now finally ready for a public release.
In a couple of weeks wont really have much to work on it anymore, so figured might as well release it before it goes to waste.
do not like writing long posts so get straight to the point.
About:
SA x VC x LC basically adds Vice City and Liberty City into the San Andreas map with the use of fastman92's limit adjuster.
In addition to adding VC and LC, have also created a new seafloor to cover the much larger map and there is now a temporary land addition north of Liberty City.
Maybe eventually will make something up there but for now its just there so that the LC cliffs do not just abruptly end.
There are no paths for VC and LC currently included.
wanted to mostly focus on getting a stable map build, eventually get paths done as well.
(Dkulin's mod already has paths and should be ready for release soon, so check him out.)
The mod works with an original main.scm, although have only tested the first couple of missions.
Since it doesn't change any of the original game files, don't see why it would not work throughout the whole story line.
Important Note:
do not intend to have this mod be competition for SOL/Underground.
We have two different goals.
SOL / Underground intends to create a much more immersive mod, while the intention of release is to provide modders with a base to build their own mods.
=============================================
Media (Screenshots/Videos)
Map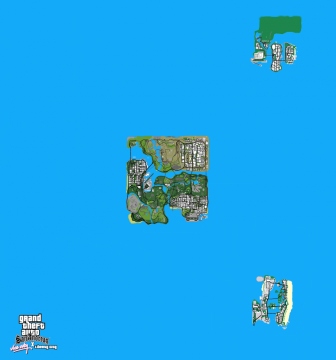 Interior Testing(Cleo script)
Old test (Build 0.01)
=============================================
SA x VC x LC - VC and LC in Grand Theft Auto San Andreas
Credits/Special Thanks:
fastman92 - Limit Adjuster
GTA: Liberty City Team - Use of GTA:LC map
OpenVice(NTAuthority) - Use of Vice City map
Silent - ASI Loader
_F_ - use of GTA VC cars Converted to SA
Kam - Kam's Max Scripts
Deniska - 3dmax script pack
x-men - 3dmax scripts/IMG Manager
Swoorup - COLRenamer(old program :p)
CLEO Team
ZAZ - some of his CLEO mods were crucial for debugging/getting around the map.
X-Seti - original concept of combining GTA III era cities so he deserves a shout out :p
=============================================
SA x VC x LC - VC and LC in Grand Theft Auto San Andreas
Download(Current Build: 0.03):
Link1
Link2
Important - You will need to have CLEO 4.0 installed if you want the included cleo scripts to work,
関連記事

SA x VC x LC - VC and LC in Grand Theft Auto San Andreas