| | |
| --- | --- |
| | [ REL | GTA SA ] SkyGfx : PS2 graphics for PC version 1.5a |
[ REL | GTA SA ] SkyGfx : PS2 graphics for PC version 1.5a
=============================================
how to install
requires ASI Loader
=============================================
STEP1.
skygfx.asi → add files in GTA San Andreas folder
skygfx.ini → add files in GTA San Andreas folder
stream.ini → replace files in GTA San Andreas folder
=============================================
SkyGfx : PS2 graphics for PC version 1.5a
SkyGfx (Sky is name of Renderware for the PS2) brings accurate PS2 graphics to the PC version of San Andreas.
IMPORTANT :
This is a replacement for my earlier PS2 mods, namely: ps2refl.asi, postfx.asi, ps2shads.asi (low quality shadows), ps2grass.asi.
REMOVE them first before using SkyGfx.
How to install, requirements, notes:
- Use a compact or hoodlum exe
- Use an ASI loader and place both skygfx.asi and skygfx.ini where it will find them.
- You should use SilentPatch
Link
- If you're using SilentPatch, set TwoPassRendering=0 there if you're using dualPassWorld=1 in SkyGfx (i.e. DO NOT enable dual pass in both plugins). You can also disable Silent's night vertex color shader with NVCShader=0, SkyGfx has a (better :p) replacement.
- If you're not using SilentPatch, use a PS2 timecyc.dat or any timecycp.dat
- for a description of the many settings, see the comments in skygfx.ini
- Since the PC vehicles don't work too well with the PS2 reflections (too much reflection), you should use my PS2 vehicles for PC
Link
- To get the big PS2 sun, use the seabed.ipl from the PS2 game (reduces draw distance)
To do:
- golden car bug
- exploded vehicle reflection bug
- thermal vision
If you experience any bugs, please make sure it is really this mod causing them and not some other.
Otherwise report them in this thread of course.
Credits: NTAuthority and Silent for their code and being generally helpful.
Dexx. Everyone who reported bugs and spotted differences to the PS2 graphics, especially format.
=============================================
ENB OFF screen shot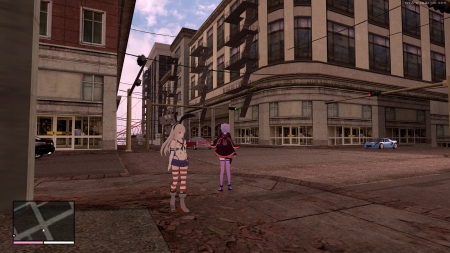 [ REL | GTA SA ] SkyGfx : PS2 graphics for PC version 1.5
author The Hero
Click here to download version 1.5
And here for the source code
Link
version 1.5a
DL Link
関連記事

[ REL | GTA SA ] SkyGfx : PS2 graphics for PC version 1.5a